Public Environmental Awareness
To achieve environmental transition we understand the need to inform, challenge and change practices and behaviours. We believe that this will be made possible by mobilizing the maximum number of people. For the last 20 years we have been going out to meet people on the ground, making our message relevant to their situation.
So our teams have been present at local festivals and events :
running awareness stands at public events (agricultural shows, local festivals, exhibitions…), listening to visitor feedback, challenging people and sharing information about environmental issues ;
leading practical workshops and organize small work parties ;
supervising visits to local facilities such water treatment stations, with on-site technicians…;
setting up exhibitions on environmental themes.
Many of these actions are supported and funded by regional public bodies, to promote environmental awareness.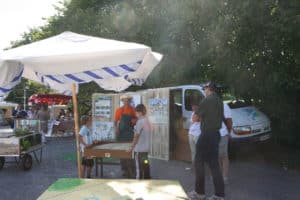 Partager cette page